---
---
2008 Crap Games Compo - Winner's Prize
16/01/09 - The CSSCGC 2008 prize was won by "The Mojon Twins" and has been sent out to them.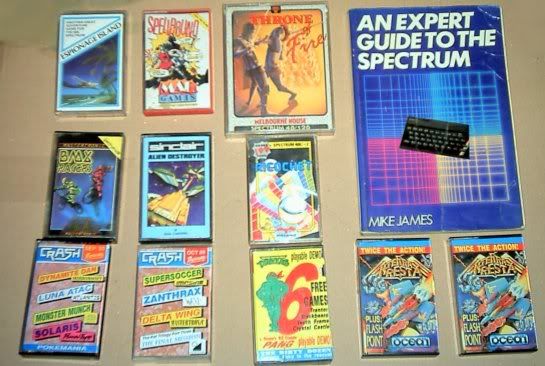 Here's some old speccy stuff I found and I will offer as a prize to the winner CSSCGC 2008:-
Game cassettes (all originals):-

Ricochet (Firebird)
BMX Racers (Mastertronic)
Alien Destroyer (Sinclair)
Espionage Island a.k.a "Adventure D" (Artic Computing Limited)
Spellbound (Mad Games)
Throne of Fire (Melbourne House)

Magazine cover cassettes:-

SU Doublehits 1:- Terra Cresta & Flash Point (2 copies)
SU Six of the best 2:- Demos of teenage mutant hero turtles, trantor, blackbeard, tenth frame, crystal castle, pang
Crash OCT '89:- Supersoccer, Zanthrax, Delta Wing, The Final Mission
Crash SEP '90:- Dynamite Dan, Luna Atac, Monster Munch, Solaris

Paperback Book:-

"An Expert Guide to the Spectrum" - Mike James

I got the game cassettes from second hand shops so it's unknown if still they work or not, however I have no reason to believe that they don't.
The last one I used was "BMX racers" when I succesfully read it into a PC sound card sometime around 1999.
The book I picked up for 20p from my local library, but don't use it any more, as I prefer to use PDF documentation instead on my laptop.

Additionally I have also found 30 or so Acorn Electron cassettes that I no longer need. I will also happily add these to the prize. (in fact giving them away would be doing me a favour.) I could never be bothered using Ebay myself to get rid of these things (probably not worth much), but the winner of the compo is welcome to do so if they so wish. Being non-Sinclair these tapes are an optional part of the prize, and it's the discretion of the winner as to whether they also want them in addition to the speccy stuff.

*Updated 18/03/08* - The prize for the winner remains completely unchanged, however I have had to regretfully drop the additional optional offer of the thirty Acorn Electron Tapes for three reasons, which is why the above paragraph is now striked out.

Reasons as follows:- (1) The large proportion of entrants from outside the UK into this year's competition means that there is a realistic chance that the prize may have to be shipped overseas, which would cost considerably more if adding these extra thirty tapes to the package. (2) The amount being raised from the on-site ads is less than I realised, and therefore would not nearly cover the extra shipping costs of these extra tapes, which weigh approximately four times more than the Sinclair stuff alone. (3) There was no interest in the Acorn Electron tapes in any of the Sinclair related forums I have visited anyway. There has only been interest in the Speccy related stuff, which is a more appropriate prize for CSSCGC 2008.

So to re-iterate, the main competition prize is still completely unchanged, just the ill-thought out optional offer of Acorn Electron tapes has been dropped and they have now instead been set aside for an Acorn Electron user.
---
---
Return to main page