FUSE Emulator Package for Solaris x86
Here you can find Digital Prawn's Solaris x86 build of FUSE and supporting libraries in Solaris pkg format.

FUSE is Philip Kendall's free ZX Spectrum emulator for UNIX systems. The Emulator is licensed under the GPL and the source code for everything used in this package can be downloaded below.
Update, 17th May 2010:- Rome Novikow has now built a new FUSE package for Solaris which works on the newer versions of the operating system. Please download it from the HiInfoTech Ltd website. Click on "EN" on the left of the page, and click on the various Russian links on the left of the page and you will find that the subpages appear in English. You must follow the "Common Installation Rules" on that site in order to install the Solaris FUSE emulator. Thanks very much to Rome for building this newer version of FUSE for Solaris.
Update, 21st September 2009:- I find that I'm currently too busy in real life to offer further support on this particular package. I've also been away from the ZX spectrum scene for some time. Thanks to N.R.Konstantinovich for pointing out that this package does NOT work on the newer Solaris 10 05/09 release. (fails with (fuse:1368): GLib-GObject-CRITICAL **: file gobject.c: line 819: assertion `G_TYPE_IS_OBJECT (object_type)' failed Segmentation Fault (core dumped) ) If you require further help using FUSE on Solaris then please try either the World of Spectrum web forums or comp.sys.sinclair USENET group. Of course I will leave the existing package on here for those users who continue to use the older Solaris releases. Thanks, Digital Prawn
To install and run the emulator (Solaris 11 based systems), download the above binary package bundle and type the following:-

# bunzip2 fuse-emulator-allinone-i386-1.0.1.tar.bz2
# tar -xvf fuse-emulator-allinone-i386-1.0.1.tar
# cd fuse-emulator-allinone-i386-1.0.1
# pkgadd -d lib765-i386-0.4.1.pkg
# pkgadd -d libdsk-i386-1.2.1.pkg
# pkgadd -d libsamplerate-i386-0.1.4.pkg
# pkgadd -d libspectrum-i386-0.4.0.pkg
# pkgadd -d fuse-emulator-i386-0.9.0.pkg
# fuse


This package has been installed and tested on OpenSolaris 2008.05, Solaris Express Developer Edition 2008.01 & Solaris 10 05/08. It is known to work on these operating systems. If you have any questions or problems using this package, then please email Digital Prawn at digitalprawn@googlemail.com. Please don't contact Philip Kendall about this particular Solaris package as it is maintained solely by Digital Prawn. Support for this particular package has ended since 2009. For newer versions of Solaris, it should be recompiled.

Also, please read the supplied README file which contains further notes.

The package should work out of the box assuming a default install of either OpenSolaris 2008.05, Solaris Express Developer Edition 2008.01 which are both based on Solaris 11.

For Solaris 10 based systems like Solaris 10 05/08 you must also download and install any needed additional files into /usr/lib from the "Solaris 10 Supplemental files" bundle above. The supplemental tarball contains some extra files which may be missing from Solaris 10 systems. Full detailed instructions on this are in the main package README.

Alternatively, if you install the binary packages pango, cairo, libiconv & gcc 3.x (from www.sunfreeware.com for example) under Solaris 10 then you'll likely only need one single file from the supplemental package. That file is libXcomposite.so.1, which was mistakenly omitted from some Solaris 10 versions of the SUNWxwplt package (It is part of Xorg 7.2).

This package is for the x86 architecture only. It does not contain any SPARC binaries.

The fuse-emulator package was built with all known available ancillary libraries as listed on the FUSE homepage at the time of building except the legacy joystick library libjsw.

If you do not have sound enabled on your system, then launch FUSE with the command
fuse --no-sound
the first time you run it. Save the emulator options via the "Options" -> "Save" menu item, then you can run FUSE again simply by typing fuse and it will no longer attempt to open the sound device on startup. Full fuse emulator instructions are found at /usr/share/doc/fuse-emulator/README after installing this package.

Also if you execute the command catman -w after installation then you should be able to view the fuse manpage by typing man fuse.

To uninstall the packages, type:-

# pkgrm lib765
# pkgrm libdsk
# pkgrm libsamplerate
# pkgrm libspectrum
# pkgrm fuse-emulator


Unlikely as it is, I have to write a disclaimer that I cannot be responsible for any loss of data or other problems as a result of using this package. Use at your own risk!

Thanks to Philip Kendall (and all contributers) for developing the FUSE emulator. Also thanks to Andrew Owen, Fred and Philip Kendall for their help and suggestions in building and using FUSE under Solaris in this World of Spectrum thread.

Additional links:-

Alternative sound drivers for Solaris

Blastwave mirror, one of the many mirrors where you can download the jsdrv package for traditional analogue joystick support in Solaris via a game port.

Download OpenSolaris for free from here.
FUSE 0.9.0 running under OpenSolaris 2008.05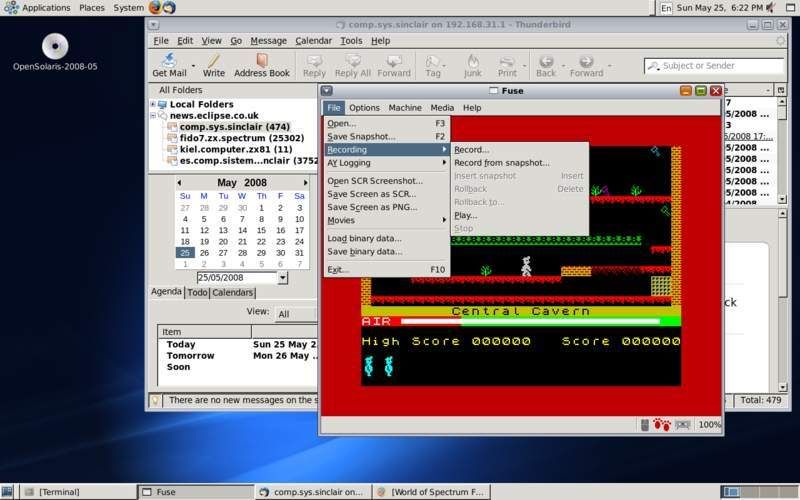 FUSE 0.9.0 running under Solaris 10 05/08

Package history
28/08/08 - A completely new package bundle was built from scratch in a "modular" form consisting of the main fuse-emulator package and several separate support library packages each in their own pkg file. README file was written, and the package version 1.0.1 released.

05/06/08 - Version 1.0 of the Soalris package was released but later withdrawn due to possible shared library conflicts with certain Solaris OS versions.
Page last updated 28th August 2008